Wedding Gifts
If you're set to attend a special wedding this year but still haven't decided on a perfect gift for the happy couple then step forwards Viners cutlery.
Our Eden 44 Piece Canteen Cutlery Set will make for a beautiful gift that the newlyweds will love. Made from 18.10 quality stainless steel, the cutlery contains lustrous properties that are rust-resistant and comes with a 50 year guarantee.
Shop Wooden Canteen Cutlery Sets
Titan 6 Pce Knife Block Giftbox
The Titan 6pce knife block explores the unique durable titanium coating in a lustrous gold colour. Taper ground blades are made from high quality stainless steel to create a harder, stronger blade that maintains its sharp cutting edge. 10 year guarantee.
1 x 8" Chef knife (333mm)
1 x 8" Carving knife (333mm)
1 x 8" Bread knife (333mm)
1 x 4.5" Utility knife ( 249mm)
1 x 3.5" Paring knife (210mm)
1 x Magnetic block. (260x201x120 mm with stand)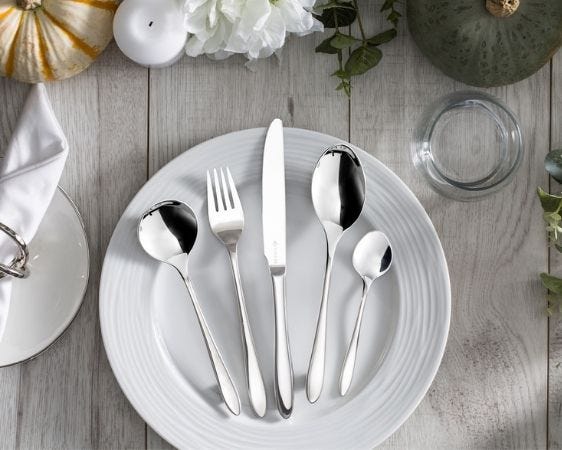 Eden 18/10 16 Pce Cutlery Set Giftbox
The Eden 16 pce cutlery set features slender, smooth, rounded handles with elegant curves. Perfectly balanced. Made from the finest quality 18/10 stainless steel with a lustrous polished mirror finish. Rust resistant with a 50 year guarantee.
4 x Table knives (240mm)
4 x Table forks (203mm)
4 x Dessert spoons (178mm)
4 x Tea spoons (133mm)
Shop Cutlery Sets