Be inspired by Eden
Elevate your table setting with one of our most popular designs. Eden is a versatile cutlery set with a smooth teardrop shape, giving it a modern yet timeless touch.
This pattern doesn't go unnoticed when placed on a busy dinner table. Whether dining al fresco, relaxed or formal, each stainless steel cutlery piece holds a commanding presence and feels well balanced.
Made from fine quality 18.10 steel, Eden has been polished to a high standard, using artisans who have perfected the skill of a fine and detailed finish over many years.
Learn more about the difference between 18.10 & 18.0 steel here.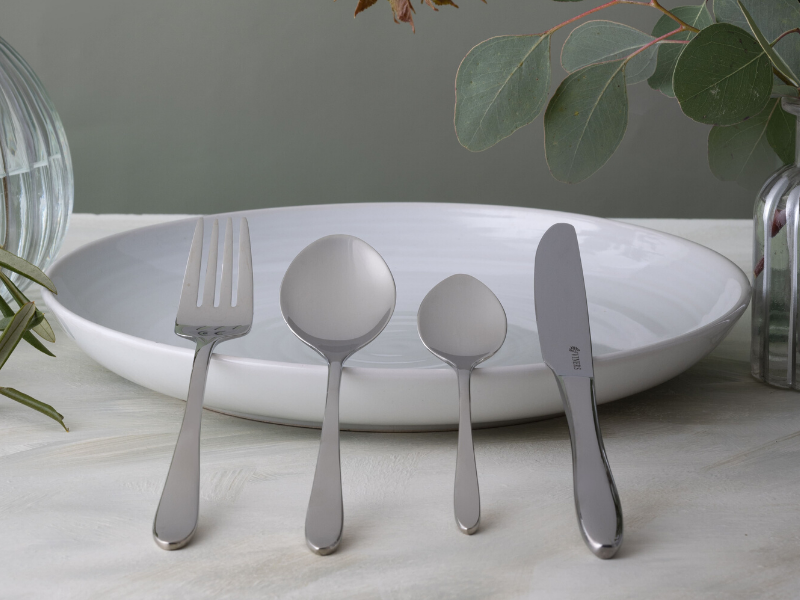 Made to pass from generation to generation
Viners® is a much-loved British brand that started out in 1908 as a family of silversmiths, and its innovative design history has carried on decade after decade. Eden has been a core collection in the Viners® family for many years and is often passed down in a family for generations. It is the perfect, timeless cutlery set with extra cutlery pieces available to purchase to build your own dinnerware collection.
The Eden collection is available in 3 different set configurations, ranging from 16 – 44 piece options. The 16 and 24 piece cutlery sets comprise of table knifes, table forks, dessert spoons and tea spoons. If you are looking for a more extensive set, the 44 piece set includes these pieces as well as soup spoons, dessert knives, dessert forks and serving spoons. The table knife is made from a solid piece of hardened steel for strength and durability.
The size of the set can be determined by the number of place settings you require. For 4 people, choose Eden's 16 Piece Cutlery Set Giftbox, and for 6 people, choose between the 24 or 44 Piece Cutlery Set Giftbox. If you require more place settings, loose cutlery items such as forks, knives, dessert spoons, soup spoons and teaspoons are also available to add to your existing collection. Like our other Viners® stainless steel 18.10 cutlery sets, Eden is long-lasting, rust-resistant and comes complete with a 50-year guarantee.