Cutlery Cleaning & Storage
Every kitchen or dining room is incomplete without a quality cutlery set and regardless of the age, style or shape, all cutlery requires care and attention.
Most cutlery pieces today are crafted using stainless steel, a durable and resilient material available in a variety of grades that determine its quality. As well as this, plated cutlery is available in styles such as gold, silver and even copper while antique cutlery is historically made using silver.
While stainless steel cutlery makes up most of the cutlery available today, it's recommended to double-check what style you are using as the processes for cleaning and storage may be different.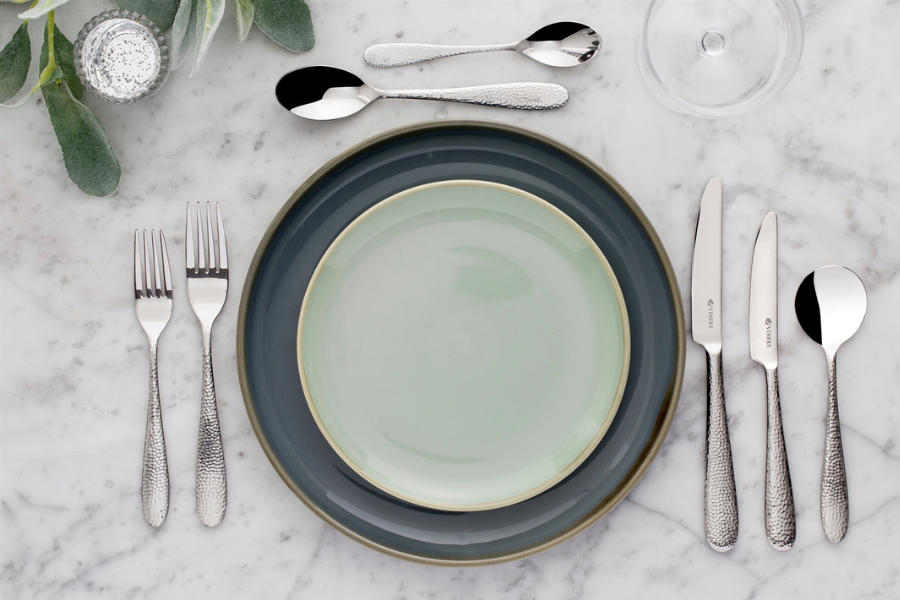 Stainless Steel Cutlery
At Viners®, stainless steel cutlery comes available in grades including 18.10 and 18.0 with the difference between these relating to the amount of nickel found in the material. Nickel provides an extra level of corrosion resistance and so cutlery pieces with lower nickel content will require more care.
Before using stainless steel for the first time, make sure to wash each piece in hot water and mild detergent, then rinse with warm water before carefully drying and storing. After each use, wash your cutlery using the same method as above and avoid leaving cutlery pieces too long before washing. The longer you leave your cutlery with food on it, the harder it becomes to clean. Salt and acid in food can easily cause damage to stainless steel cutlery over time.
Although most stainless steel cutlery is dishwasher safe, the more your hand wash, the longer it can last. Prolonged soaking can also lead to stains, resulting in a damaged and worn look. Consider using white vinegar or cider and soak for 10-15 minutes along with baking soda to restore cutlery pieces to their original shine.
Finally, whilst drying with a lint-free cloth, consider using olive oil on a dampened soft cloth to remove any streaks on your cutlery set.
Stain Removal
Staining on cutlery is quite common if you don't dry your cutlery immediately after washing. You may notice white watermarks or rainbow-coloured marks that hot grease can leave behind which takes the shine off your cutlery pieces. A simple way to clean stainless steel cutlery marks is by rubbing the cutlery pieces with a cloth soaked in lemon juice or vinegar, rinsing thoroughly and drying immediately.
If you're dealing with darker, more stubborn stains for example tea-stained teaspoons, you may want to consider using the bicarbonate soda method. Mix a teaspoon of bicarbonate of soda with a couple of drops of water to form a paste, then use a soft cloth to rub over the stained cutlery. This method will clean stained silver-plated cutlery, solid silver cutlery and stainless steel cutlery.
How to Polish Cutlery
To add that extra shine to your cutlery, consider polishing with a lint-free cloth. Once you have washed your cutlery, immediately start to dry to avoid staining and buff each piece with the cloth in circular motions to achieve that high shine effect. Make sure not to use anything abrasive when washing and drying as this can leave small scratches on your cutlery pieces. If you want to go that extra step, there are cutlery polisher creams available, just make sure the solution is suitable for the type of cutlery you have.
Our recommended care for Viners® Stainless Steel Cutlery
To take the best care of your Stainless Steel Cutlery, we recommend a few tips when washing to keep your set in tip-top condition.
By Hand
If you're washing stainless steel by hand, make sure to use a soft, non-abrasive cloth to get rid of all food particles. A scourer pad will scratch the surface of your cutlery pieces, which will take the perfect shine away.
Try not to soak your cutlery in water for too long, as harsh detergents or acid that is found in some foods may damage the pieces.
Dry immediately after washing to avoid water stain marks. To polish, use a lint-free cloth and gently buff to redeem the shine.
Make sure not to wash your stainless steel cutlery with inferior metals such as pizza cutters.
By Dishwasher
Stainless steel and silver cutlery are fine to put in the dishwasher, however, it's best to rinse leftover food from the cutlery as this can tarnish the surface.
Make sure your dishwasher filters are clean prior to use.
Avoid washing cutlery in the dishwasher alongside non-stainless steel metals, as this can cause rust spots.
Place spoon and fork head upwards in the dishwasher so they can be washed properly. Place knives blades down for safety reasons.
Always remove and hand dry your cutlery straight after the cycle has finished, this prevents the cutlery from being left in damp conditions and water staining.
---
Cutlery Storage
Knowing how to store cutlery in the right way is the other half to ensuring your dinnerware lasts a lifetime. Regardless of the size and shape of your kitchen, prioritising space to store your cutlery is important since they are a key part of every dinnertime.
Kitchen Organisation
When considering the flow of a kitchen, implementing 'zones' or specific stations for food prep and serving can help you arrange where to place your cutlery. Just like a professional kitchen, the placement of tools and utensils is key in creating a balanced and effective kitchen space.
The average cutlery drawer typically contains more than just spoons, knives and forks and can sometimes but a hassle to find the pieces you need. Consider utilising a cutlery tray or organiser that fits well within a drawer space and separates individual cutlery pieces. Using cutlery from the same set is also beneficial as mixing plated and non plated cutlery pieces for example can lead to increased wear and dulling.
---
Storage Ideas
While most kitchens will have a drawer unit to store cutlery pieces, others may have to get creative with the space available. Kitchen drawer organisers and dividers make efficient use of the space within deeper kitchen drawers and a cutlery tray can easily display all the kitchen equipment you need.
If drawer and cupboard space is limited you may want to consider a cutlery basket or bucket which are designed with kitchen aesthetics in mind and allow easy access to everyday use cutlery pieces. An even more creative cutlery storage idea could be to re-utilise old Kilner jars or wooden compartment displays that can individually hold spoons, knives, forks and more.
---
Cutlery Display
One option for making cutlery work for your home and dining room design might be to display cutlery. Whether you have a vintage cutlery set or a more modern design, utilising a cutlery display box could add that extra fine dining flare to your home dining and entertaining events. Many larger cutlery sets come complete with beautiful wooden canteens that can double up as a display case as well as a reliable storage option.